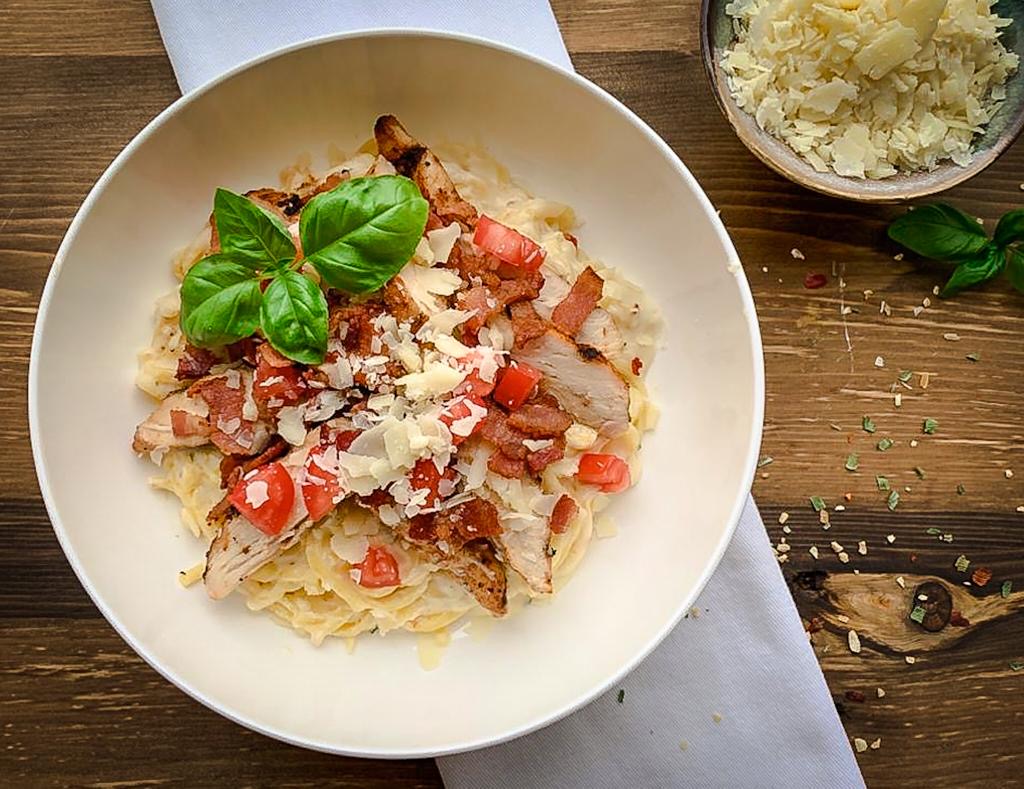 Cajun Chicken Alfredo
This Cajun chicken pasta is delicious but simple to make, featuring a creamy Alfredo sauce and grilled Cajun chicken.
Ingredients
Chicken:
Alfredo Sauce:
⅔ cup melted butter
4 tbsp flour
1 ⅓ cup heavy cream
1 ¾ cup milk
¾ cup fresh grated Parmesan cheese
1 ¼ tsp salt
Toppings:
6 slices bacon
1 tomato
8 oz mushrooms
freshly grated Parmesan cheese
Directions
Cut each chicken breast in half through the center to create two cutlets, this will ensure quick even cooking, resulting in moist succulent chicken. Lightly season with salt and Cajun 8 Spice on both sides, let sit for ½ hour before grilling. Once grilled let rest for 5 minutes before slicing.
Cut bacon into ¼ wide pieces, fry in skillet over medium heat till crisp. Remove with slotted spoon and drain on paper towel, set aside.
Bring 4-5 litres of water to a boil, add salt to taste. Add pasta to boiling water and cook for 8-10 minutes or according to the manufacturers directions. Drain in colander and toss lightly with a small amount of oil.
While the pasta is cooking make the Alfredo sauce. Melt butter in a medium size pot, add flour and whisk together well, then add the heavy cream, milk, Parmesan cheese,  Nana Squire's Potato 4 Spice and salt. Cook till thick about 4 minutes.
Slices mushrooms, fry in skillet with butter over medium high heat till brown and caramelized. Once removed from heat salt lightly.
Chop tomatoes
 Toss the noodles and Alfredo sauce together, top with sliced chicken, bacon, sauteed mushrooms, tomato,  Parmesan cheese, fresh basil, and freshly cracked pepper.
Variations
To serve with baked chicken instead of grilled, simply drizzle olive oil on chicken breast, season and bake at 425F/220C  for 18 minutes or until an internal temperature of 165F/75C has been reached.